13.02.2018 Journée Scientifique InterLabEx Agro-CeMEB-Tulip : Adaptation des organismes à l'environnement
Le 13 February 2018
Montpellier SupAgro, Amphithéatre Lamour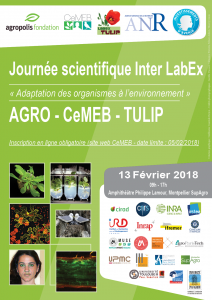 OUVERTURE DES INSCRIPTIONS ! Date limite 5 fév.2018
Les LabEx AGRO, CEMEB et TULIP organisent à Montpellier le mardi 13 février 2018 une journée scientifique interLabEx sur le thème « Adaptation des organismes à l'environnement ».
Cette journée d'échanges entre nos communautés sera organisée sur la base de communications courtes (10 min) destinées aux chercheurs juniors (PhD, Post-docs), de communications plus longues (15 min) destinées aux chercheurs « seniors », et d'une table ronde destinée à favoriser les collaborations entre les communautés de Toulouse et Montpellier.
Programme en téléchargement ci-dessous.
ASPECTS PRATIQUES / PRACTICAL INFORMATION
Les présentations scientifiques auront lieu en français ou en anglais (avec une préférence pour l'anglais), et les supports de présentation (dispositives) seront en anglais.
Les discussions de la table ronde auront lieu en Francais afin de favoriser la création de liens entre les communautés scientifiques de Toulouse et Montpellier.
Des navettes seront mises en place depuis Toulouse, merci d'indiquer dans le formulaire ci-joint si vous souhaitez réserver une place (gratuit).
***********************************************************************************************************************************
Please note that oral presentations will be in French or in English (diapositives will be in english).
Discussions during the panel discussion will be in French, in order to facilitate connexions between the scientific communities of Toulouse and Montpellier.
A free bus transfer will be organised from Toulouse to Montpellier, please indicate within the registration form whether you are interested.